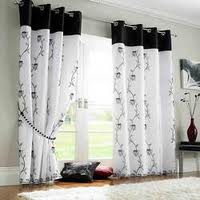 Curtains are a mandatory accessory in our homes and offices. Curtains have become a style statement and an essential part of home decoration. Interior designers take lot of time to go thru' color schemes and designs before making the final choice. Curtains is a reflection of our tastes and adds meaning to the room.
Importance of curtains
Curtains are window coverings that keep away direct sunlight from entering the rooms. It is an energy saver as curtains provide cooling for the room. Curtains provide an ambience in the room. After a long tiring day out and you walk in home, you need to feel the warmth and comfort. You room color scheme aligned with curtains play a major role to provide a soothing effect. The other advantages of curtains are:
Privacy: Privacy is a major reason for people to fix curtains. What with complexes and apartments being constructed with minimum foot area and corridors, it has become essential to safeguard our security and privacy. Curtains prevent invaders to peep in and also provides comfort and a feeling of not being disturbed with the extra glare of lightings and vehicle movement.
Prevents direct sunlight and keeping home cool: Direct sunlight causes discomfort due to heat in the room and at times damages wood furniture and accessories inside the room.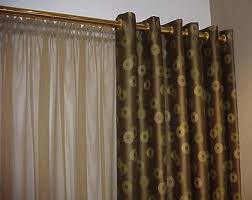 Dual benefits : You can opt for two layered curtains. One is thick and opaque and the other one is semi-transparent, sheer material. In the day time you can keep the sheer curtain open and draw the thick curtain together on both sides. You can enjoy sunlight and enjoy nature thru' the filmy curtain. In the night to avoid glare and lights you can spread the thick curtain and enjoy quietness and privacy too.
Security: Curtains prevent people to peep into personal lives for information to their advantage. Professional Curtain companies now do provide electric curtains and these have become very popular it comes to security as it gives an illusion someone's inside when no one actually is.
Tips for choosing curtains
Curtains can make a room look lively and provides soothing effect based on the color, prints and material chosen .
You can hang curtains on rods or fit them into rods. These days there is a variety of curtain rods, color and designs to choose from.
Be careful while selecting the rod as it needs to hold the weight round the clock and it should gel with the wall colors.
You can opt for full length curtains for half height windows. This will provide uniformity and looks appealing. Provide 6 inches clearance from the bottom to avoid floor contact and the bottom of curtain becoming dirty due to movement with air .
If the room is small then use window size curtains. Do not use multi-colored curtains in the same room. It makes room look crowded and small. At a minimum use 2 colors only in the same room.
Fabric colors must go along with the upholstery or be in contrast with it.
Selection of dark colors like red , maroon and deep brown for curtains make the room look smaller as light will not penetrate.
Make sure your wall, flooring and furniture are in perfect co-ordination with your curtains to simplify this you can use neutral colors to make it easy to match if you already have fanciful colors in the room.
Use dual benefit curtain – opaque and semi-transparent curtains to provide sufficient lighting during the day and privacy at night.
Use dark colors for draperies in the bedroom as it gives better sleep.
If the windows attract a lot of sunlight select neutral colors as they will fade less.
Cotton fabric is ideal for curtains. You can give a royal look to the room by selecting velvet or silk.
Select suitable accessories to keep curtain tied and in place. Use lining for curtains if you feel the thickness is not adequate. Lining will also seal the back work of embroidered prints and zardosi work.
People avoid vertical blinds in place of curtains as it is difficult to clean and an attractive place for dust to settle.

Tips for Measurement of curtains
Be precise while taking measurement for the room curtains. Decide how high above the window you'd like the curtains to begin. Usually curtains hang about six inches above the window frame.
Curtains should have good width such that the folds form well and add style to the room. Be sure to add four to eight inches on both sides and double the total number to ensure curtain fullness.
The extra width of curtain rod around the perimeter of your window frame will also help block out any creeping light.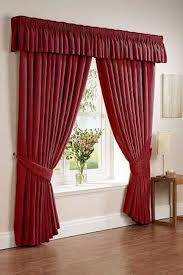 There are lots of designs, embroidered patterns, color schemes, patterns for the curtain rods, hooks, accessories for tying the curtains, drawing the ends together. The latest trends in the market for curtains and the readily available models to fit your room measurements can be accessed with ease.
Spend your time wisely while making the choice for curtains at your home. Curtains add feelings to the room. They not only smarten but also make the house more comfortable and friendly with enhanced privacy. The prime factors for decision making while selecting  curtains are – Durability and comfort…as well as your budget . Choosing the right curtains for the room is a tricky business. Make sure you study your room and do some research before going for them.