A common question for most individuals and moms is what to cook for dinner today? Women stand in front of the refrigerator and take an account of the vegetables that are stacked. They stare at the bottled jars in the kitchen pantry and try to figure out what to be cooked for meals.
For Indian homes, cooking is a big deal. Family comprises of people with varying age groups. Three meals a day, seven days a week and all round the year the kitchen tasks goes on. To top it all Indians indulge in too much of snacks and evening special called 4 to 6 pm snacks.
The regular chores in a kitchen and home includes buying groceries from the market and stores, transferring stocks to pantry and refrigerator, planning for the current menu, chopping all stuff, cooking and serving, shifting all soiled utensils to sink, washing utensils etc. This is a routine and at times you get hassled up with all the activities that are going around you.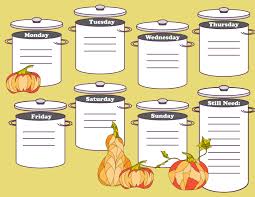 Menu planning means that you plan in advance what you want to cook for meals. You will plan all purchases accordingly.
A small deviation in the schedule will delay your meals. To make things easier you can initiate a new idea- Menu planning. Menu planning doesn't have be complicated! Planning meals ahead requires a small investment of time, but can reap great rewards:
Menu planning saves money: You will save money with lesser visits to the supermarket and grocery stores and therefore will reduce on extra spending each time you visit the store. You will save money by buying larger packs for foods that can be stocked in the refrigerator.
Menu planning saves time: You actually save time by not visiting store often. You plan and buy groceries such that you do not have to borrow from your neighbor. You will not waste time searching for the ingredients or if you have missed thawing an essential ingredient for the dinner tonight.
Menu planning improves nutrition: By not visiting the stores often you allot time for side dishes and complement the main dishes with salads. You ensure seasonal fruits and vegetables are included in the meals with proper menu planning.

There are different ways of menu planning methods that can be adapted to your family as per the lifestyle. You can plan the night before based on the children's schedule of packing lunch etc. You can decide based on the leftover quantities as decide what best fits for your meals the next day.
You can plan the menu a week or fortnight in advance. You get advantage of the stocks and groceries you purchase. You have total control of your family's diet and nutritional requirements with good planning.
You can therefore rotate this menu on alternate weeks and ensure your family gets all seasonal requirements too.
I know few families where the children know in advance what's for breakfast / dinner at home. That's how menu planning is followed at few homes. They have benefited from this exercise and have continued.
A sample of breakfast would be as follows:

Remember, menu planning will have benefits of saving time and money. This will boost nutrition. Initially you may feel strange when you are referring to the sheet always. But then it is a system that brings in discipline. You will remember to soak the pulses in advance, grind masala's if you know what's to be cooked the next day and for the South Indians the coconut is a mandatory ingredient they can plan in advance. You can be assured that your family is getting the best meals – planned diet. You can plan a day in the week for dining out or relying on coupons. This way your family will not crib of not having a change.
Give menu planning a try and see the difference it makes in terms of money and time. Convey your unique ideas in the comments.