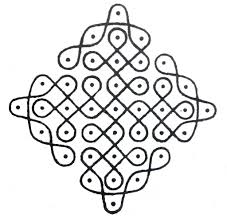 In India Rangoli designs –Kolam art is seen in front of most homes. The designs are artistic, few are large, intrinsic and some are small, yet cute. The curves and turns in the designs are a mystery for most onlookers. The responsibility of drawing rangoli lies with the younger women folk. The women need to wake up early in the morning, clean up the yard/ threshold/ verandah and after a bath and prayer sprinkle water on the ground and put the designs.
If it is a cemented floor as in apartments, the floor is wiped with a damp cloth and small rangoli designs are drawn with colorful chalks. A new design is placed everyday also exploring creativity and skill. People have even started to paint designs on the cement floor due to lack of time.
Kolam-Moggu traditionally are made by joining many dots in various designs and are then decorated with rice powder. The dots in the Rangoli designs symbolize the challenges we will face in life. We must patiently and bravely face these challenges to lead a life beautifully like Rangoli. Colored rice powder is used for Colorful rangoli.
People draw rangoli out of their homes to keep away evil forces and negative vibes from their house. This is also done to ensure that all positive energy along with the blessings of Goddess Lakshmi enters the house.
Psychological aspect of Rangoli designs:

Colors play a very important role in life. By drawing a beautiful rangoli in front of the house, it could impact the outlook of your home. The mind of the passer-by person is transformed to a pleasant state removing all negativity. Rangoli designs are both decorative and symbolize a warm welcome and good luck.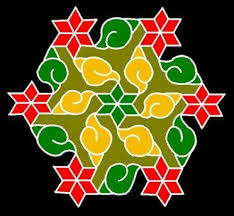 The rounded designs of the Rangoli kind of brings down energy levels in you. Symmetry of the Rangoli brings undivided attention. In simple words the moment you pass thru' a Rangoli you are disconnected from the past and future. You are forced to remain in present. If you are entering a house then you feel good to enter a house and if you are leaving a house then come you out in a good mood.
Religious aspect for Rangoli designs:
In the Epic Ramayana it is mentioned that the people in the kingdom welcomed Lord Rama back after his fourteen-year exile in the forest by painting Rangoli designs outside their homes. Hindu families continue to honor this tradition today.
Rangoli is originated from two words Rang which means colors and Holi which means celebration. So Rangoli is an artistic celebration of colors.
In the earlier days while drawing Rangoli, the women used to sing sacred mantras and used to believe that this will guard them from evil forces. Basic intention behind this creation is the welfare of the family. The rice powder spread on the floor is also a way to give back to nature, such that even the smallest of insects eg. the ant get its feed. I heard this as part of a religious message on television. The message also highlighted the importance of nature and how small activities are interlinked and their importance to mankind.
Scientific aspect of Rangoli designs
Rangoli is really not a mechanical or ornamental phenomenon. It is science of creating energy pool. Dots which can be extremely attentive creation are important part of Rangoli creation. That's why Indians keep Tilak or dot on their forehead, it is also known as the Spot of attention.
Watch this video to understand how the designs are connected scientifically.

If some of you are science students then you may recall your early lessons in physics that all colors originate from white light. That's why prayers to light or Sun god is one of the most important prayers you offer in your daily life in Indian tradition.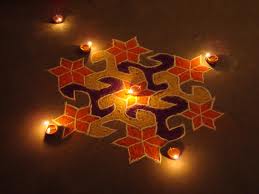 Rangoli is spiritual distribution of colors. The Rangoli designs maintain symmetry in their design. Which means left and right side of the Rangoli always look similar. Interestingly most of this Rangoli designs used to be rounded edges unlike sharp edges. Rangoli is subtle art of influencing you to stillness. In marriages, Deity festivals, Religious celebrations, Rangoli plays very important role in India.
Rangoli is a one of traditional decorative folk art of India. It is a colorful pattern usually made on the entrance of the house. In North India, rangoli design is mainly made on Diwali (Deepavali – the festival of lights) to welcome Goddess Lakshmi.
Materials used for making Rangoli designs 
Colored Sand, Flowers, Candles, Oil lamps (diyas), Leaves, Marble Dust, Colored Rice, Saw Dust, Colored Suzi, Colored Stones or rock salt, Pulses, Colored Chalk Powder, Rice Powder
Themes of Rangoli designs:
Flower Theme, Religious Theme, Geometric Shape, Floating Rangoli, Festival Theme etc. Flower arrangement done in Kerala during Onam festival is very popular across the world, this art is called Pukalam.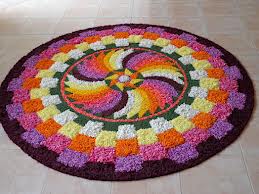 Different names for Rangoli art in India
Rangoli art has different names in different states of India. Telugus refer rangoli as Muggu, keralites and tamilians call it Kolam, Chowkpurna in Chhattisgarh and Madhya Pradesh, Mandana in Rajasthan, Aripana in Bihar, Alpana in Bengal, Rangavalli in Karnataka and Maharashtra, Alikhthap in Kumaon, Ossa in Odissa, Saathiya in Gujarat, AND Sonarakshana-Sanjhi in Uttar Pradesh.
Rangoli designs vary from simple geometric patterns to highly intricate images. Everyone can appreciate the beauty of this art form and give a try to create a Rangoli design beautifying your environment and also carry forward the culture and traditions of India.
Please add a comment and, if you like the post, feel free to share it with your friends. You can also visit our facebook page and Google plus page for more insight on other articles.