Diwali, the festival of lights is celebrated all over the world by Indians. There is a series of fire crackers, decorated lights, illuminated households with diyas and the new LED lights in various colors and shapes. Rangoli designs are also made in front of every house to welcome Goddess Lakshmi, Hindu Goddess of wealth.
This festival is popular for festivities that include new clothes, sweets, gifts distribution and family gatherings. Rangoli designs are drawn and filled with vibrant colors like red, yellow,pink, green, blue, orange etc.
Also read: Best Rangoli designs for Diwali
How to make a Rangoli:
First of all finalize the design you plan to make a rangoli.
Draw the design with a chalk on the floor. If it is on the ground use moggu powder to make the design.
Start adding the colored powders into the designs based on the initial plan.
Make sure to start from the center.
You can decorate the rangoli design with diyas, flowers, beads, leaves as per your choice.
Read: 40 best diwali designs for you

Rangoli design requires skill and creativity to plan for any outages. With time and regular practice you can also make a great statement by drawing a beautiful rangoli design in front of your home.
You can surprise your friends and relatives by a sparkling diwali including diyas and flowers. The diyas will have a mesmerizing effect for the onlookers. The only question is which rangoli design do you opt this Diwali. Buy diyas from the local vendors who come up with new patterns every year.
Do not miss to read: Simple rangoli designs for festival season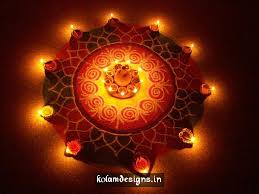 Go thru' the numerous rangoli designs laid out in various colors and backgrounds . You need to consider the space to be allocated for the diwali design mainly to avoid people putting their feet over the colors and making a mess and then you feel bad about it.Keep away curtains such that wind will not blow away.
Further read: Latest rangoli designs
Make the most of this Diwali with wonderful dishes, painting the house, cleaning the house, decorating the house, making rangoli designs and seek the blessing of the Goddess of wealth and have great prosperity in the coming years.
Recommended reading: Why to draw Rangoli designs-Kolam art in front of your home? Scientific reasoning.
Rangoli designs vary from simple geometric patterns to highly intricate images. Everyone can appreciate the beauty of this art form and certainly give a try to create a Rangoli design beautifying your environment and also carry forward the culture and traditions of India.
Please add a comment and, if you like the post, feel free to share it with your friends. You can also visit our facebook page and Google plus page for more insight on other articles.