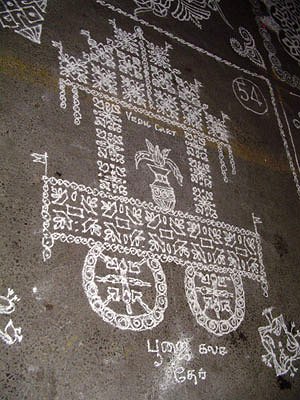 Kolam basically consists of dots and lines that together form a beautiful design that represents nature and also conveys a special meaning. Kolam designs keep changing as per occasion and festivals. The patterns represent flowers, birds, animals and moving objects like chariot etc.
Most of the designs are circular exuding a sense of endlessness of time. Sun, moon and other zodiac signs are also common themes.Though the designs vary in different parts of India and is called by different names, the basic approach is common. The designs are geometric and proportioned.
Also read: Why to draw Rangoli designs-Kolam art in front of your home? Scientific reasoning
Kolam has great significance during Sankranthi-Pongal festival. Month of January is auspicious and during the Sapthami special kolam-muggu designs are drawn in front of homes.
The Sankranti Rath (chariot) is a typical Pongal Kolam. The ropes of the ratham are supposed to be kept open till the next day when they are joined from house to house to symbolize a collective desire to realize an uninterrupted cosmic cycle. In earlier days the women folk woke up early in the morning and set a large part of their time to welcome prosperity and happiness in their homes.
As times have changed there are families who still keep the tradition ongoing by drawing kolam designs / ratham muggu in front of their homes be it an apartment / pent house. They sprinkle the design uniformly with flowers, kumkum and turmeric powder. I have seen women folk place small heaps of cow dung in molded form with a marigold flower and ripe regi pandu/ bero scattered around these shapes.
Rathasapthami  is a festival in honor of Sun God. On this day a Rathasapthami kolam/ designs with chalk powder of ratha/ chariot is drawn in households to celebrate the festival . Chariot rangoli symbolizes sun God travelling in a chariot and visiting homes.
Rathasapthami festival is celebrated after Pongal or Sankranti on the seventh day (hence Sapthami ) in the bright phase of the moon.  A free hand rangoli of a chariot with a single wheel representing the Sun is drawn on the floor or on a wooden plank usually with kaavi (red ochre) paste. The chariot has a single wheel with a pennant or (dwaja/flag ) at the top.  A pictorial representation of the Sun is drawn inside the chariot.  This probably signifies the beginning of the harvest season. Offerings include include Chakkara Pongal . Actually it was prepared by boiling milk on a stove lit with dried cow dung cakes. The ingredients for Pongal are added after the milk boils.  The stove is placed in the sun facing east. This is simply followed in the kitchen as in Indian homes the stove faces the east only (Vaastu concept).
It is customary to draw only a single wheel for the chariot.  A toran of mango leaves on the top, rangoli patterns representing banana plants are drawn with green color. Both mango leaves and banana leaves are considered auspicious and are invariably used in festivals and functions like weddings.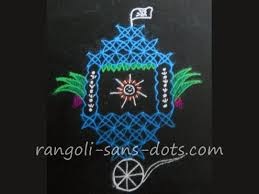 On other days the geometrical designs are neatly filled with various colored powders and there is a riot of colors in front of all homes. The view is simply great and this practice is keeping our tradition alive.
In every area there is an influence of technology. Plates are available with the designs etched with holes provided. When this is filled with Kolam powder and tapped on the ground, it is easier to make a Kolam. You can change the plates, mix color along with the moggu powder, be creative and design a number of patterns to make an impression.
Celebrate this Pongal-Sankranthi with colors and share the happiness with others.
Also read: Latest collection of colorful Rangoli designs with diyas for Diwali 2014