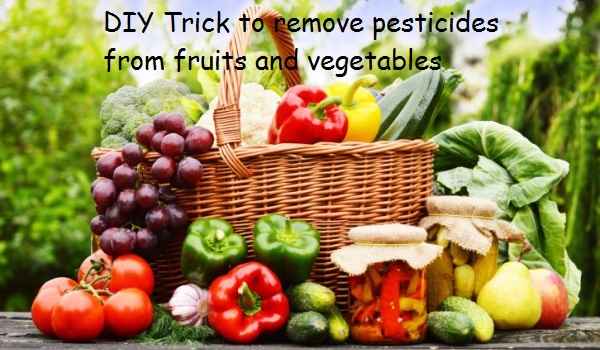 It is a proven fact that pesticides are present in all the fruits and vegetables we eat. They primarily used during cultivation of crops and in some cases may remain as residues. Wash all your fruits with 2% of salt water will remove most of the contact pesticide residues that normally appear on the surface of the fruits. Almost 75% to 80% of pesticide residues are removed by cold water washing. Most of the fruits that are likely to have pesticides are mango, apple, grapes, plums, guava, peers and peaches and vegetables like tomatoes, brinjal and okra .
The following are few simple natural and cheap tricks that can help you get rid of those nasty chemicals.
DIFFERENT METHODS TO CLEAN YOUR FRUITS :
Vinegar:Removing pesticides using vinegar is a natural, simple and cheap method. Natural vinegar wash not only removes pesticides but removes bacteria from the produce. Fill a large bowl with 4 parts water to 1 part plain white vinegar. Soak the fruits and vegetables you would like to clean in the mixture for about 20 minutes. Rinse it well with warm water.
Make Your Own Spray:This pesticide removing natural spray is super simple and easy to make with the ingredients that are readily available in your kitchen.   PROCESS: Mix 1 tablespoon lemon juice, 2 tablespoons baking soda and a cup of water until the baking soda is completely dissolved. Pour this into a clean spray bottle. Spritz the mixture onto your fruits or vegetables and let sit for 5-10 minutes. Rinse the mixture off and enjoy the pesticide free produce.
Soda Salt:Soda salt can be used as a universal cleaning solution to remove pesticide residues.You can wash the fruits and vegetables with 5% soda salt. Studies have proven that using soda salt solution is effective than washing with tap water. Soda salt can therefore be treated as a general cleaning solution to remove mixed pesticides in fruits and veggies.
Mix1 tablespoon lemon juice, 1 tablespoon white vinegar and a cup of warm water.Pour this into a new spray bottle. The spray produce is ready. Spray it on the fruits and let sit for 5-10 minutes and rinse thoroughly to wash away the residue.
Mix 1 tablespoon baking soda, 1 cup white vinegar, 20 drops grapefruit seed extract available at food stores and a cup of water. Mix properly to produce the natural spray.. Let sit for around 15 minutes and rinse thoroughly.
NOTE: The baking soda and white vinegar will foam when mixed together. Make sure you use a deep pitcher and pour slowly and steadily.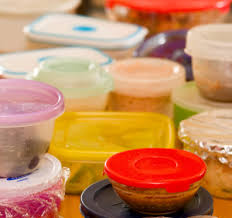 Tupperware food storage containers are in great demand for space optimization, heating food in micro oven, popular food grade characteristics and saves lot of space in the refrigerator. Indian cooking involves lot of spices, aromas, colors and mainly oil. There are some delicacies like curries, pickles and sweets that require a layer of oil/ ghee in it to taste better.
When containers are used to store such preparations it stains the container and lid. Commonly observed is with tomato sauces, tomato chutney. Even lunch boxes that store tamarind rice or tomato rice stains the container.
You have a good collection of Tupperware food storage containers and if few of them are stained due to storage you will not be able to use them confidently. Sometimes you feel like disposing them after several scrubs and repeated washing.
Here is some great news for the home makers. Go through the easy ways to get rid of the stains and restore your Tupperware food storage containers back to normalcy.
Easy ways to remove stains from Tupperware: Soak in automatic dish washing detergent
This is the primary method adapted by most homemakers. The Tupperware containers with tough stains are soaked in dish washing detergent. Add 2 tspns of the dish washing detergent to 1 litre of luke warm water and soak the Tupperware container in it. Reduce the water as per the size of the stained container. Let it remain for 2 to 3 hours and you get best results.
Easy ways to remove stains from Tupperware: Use the sun
Sun is a powerful natural resource and you can take full benefit by placing the stained Tupperware containers in broad sunlight for drying. Let the containers remain in direct sunlight for about 6 hours and then wash the container with dish washing liquid. The stain will be gone or at least get faded considerably.
Easy ways to remove stains from Tupperware: Baking soda and salt
Another method practiced by few homemakers with superior results is one of the simplest stain removal techniques. Mix some baking soda and salt and wash your Tupperware food containers just as you would with regular dish washing detergent. The baking soda cleans the stains while the salt acts as an abrasive. After the scrubbing is complete, wash the containers out with normal dish washing detergent and you're done.
Easy ways to remove stains from Tupperware: Use bleach
This is one method that achieves double results with one process. Fill your sink with warm water about halfway, and then add about a half cup of bleach. Submerge the stained containers and let soak for an hour. This is a great way to get your kitchen sink clean as well. Both your Tupperware container and your kitchen sink will be sparkling clean.
Easy ways to prevent staining
As the old proverb goes…Prevention is better than cure. Follow this little trick to help keep your Tupperware container stain-free.  Before you transfer the food into Tupperware food container, you need to simply spray the inside of the container with some cooking spray. This will help keep the food from sticking and staining the Tupperware. When you go to wash the container, the food will be easily washed away without staining.

Cooking sprays can be sprayed during cooking to minimize consumption of oil and calories. Cooking sprays are available in Indian market too.
Try some of these techniques next time you have stained Tupperware that you need cleaned. If you know of any other methods please mention in the comments.
Also read: How to remove white marks or hard water stains from Bathroom buckets