HOW TO CONTROL TERMITES IN YOUR HOME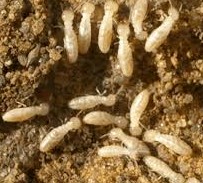 Termites are annoying insects and cause major destruction to property. Termites are referred to as white ants due to their pale appearance and structure. Termites play an important role in breaking down dead wood in forests and speeding the conversion of nutrients into the soil.
Termites are initially flying insects. They land on soil and penetrate into damp soil and later transform as termites.
When termites attack homes, they cause more damage to homes than what a fire can do. This could include buildings, wooden structure and the critical documents. Termites are observed commonly in older homes, but do not ever underestimate the capability and team work of termites in attacking new homes too. Termites makes way into homes through minute cracks in the concrete . It is estimated that the western countries spend a huge ..huge amount every year on termite control , repair and treatment.
Basically there are two types of termites: subterranean and dry wood. The saddening factor is that you will notice the termite hill on the surface of the wall or wood only after the inner surfaces are totally destructed.
Prevention is the best way to deal with termites.  Mentioned below are tips to control termites from entering your home.
Termites are attracted to moisture.
Eliminate standing waters in and around your home.
Fix leaking pipes, drains, sinks, showers.
The water of Air Conditioning units should be well connected to drains.
Termites are attracted to wood.
Remove waste timber after construction activities. Remove all debris.
Firewood and necessary wood should be stacked off the ground and away from the house and external walls.
Remove wood that is in contact with soil.
Avoid planting trees close to the foundation. Cut back climbing vines, shrubs from the walls and pillars.

Precautions to be administered to control termites:
Ensure concrete slab is properly designed, compacted and cured during construction of homes and buildings..
Treat all timber that is used for interiors to prevent termite attack, Select naturally resistant timber for wood work.
A good coat of paint on the wood acts as a barrier for dry wood termites. Fill all wood damages timely and paint them.
Seal all cracks and paint exterior of your homes.
Screen all vents to prevent termites flying into your homes .
Inspect for timber powder at the place wood / timber is stacked after purchase and during construction.
Ensure proper drainage  and access to prevent rain water clogging near the foundation.
Get your home / buildings inspected or self inspect your home during summer and rainy season- between March and August. This is the period when termites attack homes and wood. Be alert to identify any mud hills and hollow sound of wood surfaces especially the door and window frames.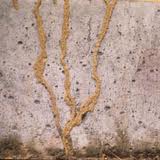 Early diagnosis will control termites and prevent expensive treatment measures and huge loss of documents due to termites infestation.
You can consult Professional Pest Controllers if you think that the extent of damage is big and the widespread nature of attack. There are chemical and physical control measures that can be deployed upon survey and assessment of termite attack. The guarantee period for chemical treatment is between 3 to 5 years.
You can decide the best methodology to control termites in your home and property.