HOW TO KEEP STAINLESS STEEL SINK FREE OF HARD WATER STAINS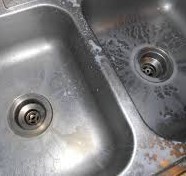 You have cleaned the entire kitchen and are worried to see the Stainless Steel sink full of stains and white patches. You are having a small get together at your home this weekend and you are desperate to find a solution.
These white patches are hard water stains meaning the water droplets have dried leaving those ugly marks on the surfaces. If left uncleaned they will form a thick layer and it will leave permanent scars on the surface.
Hard water stains are a result of mineral content in water like lime, silica and calcium. When the water evaporates the mineral deposits leave a scaly appearance on the areas. Few individuals have replaced the SS sink as they were unable to clean the stains.
Here is a solution for removing the hard water stains from the SS sinks and surfaces.
Make a paste of baking soda / cooking soda.
Add ½ cup baking soda and ¼ cup of Vinegar into a container. You will observe a foaming action when the two ingredients are combined. This is normal, wait for the foaming to stop. Mix the solution with a plastic spoon.
Dip a cleaning cloth ( use soft texture ) into this paste and apply on the sink. Apply the paste on the stained areas in circular motions such the stains are cleaned.
In another utensil keep warm water. Dip the cleaning cloth into the warm water and clean the sink thoroughly. Remove all cleaning paste and wipe off all water spots with a dry cloth.
You can recycle old , unused banians and old T- shirts for cleaning. This material will absorb all moisture and leaves your Stainless Steel sink free of stains.
Recycled cotton material also absorbs oils from gas stoves and kitchen counters.

You can save on money as you are using recycled material and also ensuring the Stainless Steel sink is free of hard water stains.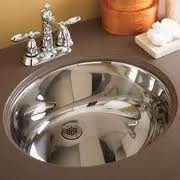 You can also use the lemon peel after using the juice for cleaning the sink. It also kills all bacteria and leaves your sink smelling fresh.
Precaution is better than cure therefore after all the utensils are washed, drain off all water and clean the SS sink with a dry cloth. This will remove all moisture and you will not see those ugly spots again.