HOW TO MAKE WHITE CLOTHES LOOK BRIGHTER
You love to wear white clothes but are afraid that it will lose the brightness after a few washes. Therefore you minimize your white clothes collection. But you cannot avoid your child's school uniform. It has to be maintained throughout the year.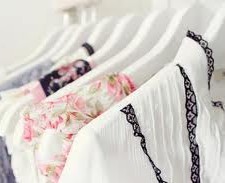 White clothes turn gray gradually as it is washed in hard water. Most of the homes are supplied with hard water and this is the main reason for the soap not to lather and be ineffective. The hardness in water settles as a residue on the clothe leaving it stiff too. You need to add powdered water softeners in the water while soaking white clothes, available in the market.
Whites are worn to churches regularly and is mandatory for individuals in medical profession. Come summer, all family members will prefer wearing white clothes to minimize the heat effect. It becomes all the more painful for the home maker who needs to monitor and upkeep the hubby and kids cupboard .
Here are a few tips to make your white clothes look bright and fresh.
Wash white clothes separately. Do not mix with color clothes.
Do not include stained socks along with whites while soaking
Use lukewarm water or hot water to soak the whites that are soiled as the detergent will dissolve and be effective to completely remove the dirt.
Whites can be washed regularly in normal water. Use hot water every third wash based on the look of the clothes. You can save on hot water.
If you feel a particular set of white clothes are looking gray, then soak them in lukewarm water into which detergent is added. Leave it for 24 hrs and then rinse the clothes with Vinegar and water. Dilution to be followed: 2 tspn of vinegar to 1 litre of water.
You can make white cotton socks look sparkling white by boiling them in a flat vessel containing water and a few slices of lemon for 5 minutes. Lemon is a natural bleach and removes soil and dirt from the clothes and restore color too.
An alternative for washing soiled white socks will be Dishwashing liquid. Add a spoon of dishwasher to the lukewarm water and soak the soiled socks.
Follow the same practices for your white bed sheets.
Follow the washing directions mentioned on the label of your white clothes for best results. This will prevent damage to the fiber of the fabric.
You will be surprised to see your white socks and white clothes looking bright and new. You will receive appreciation for your effort and special attention from loved ones.
Make your jeans look new
Teenagers love to wear whites with jeans and you need to be in sink with the sparkling whites. To prevent your new jeans from fading, soak them in 4 tbsp of Vinegar mixed in 5 litres of water for about 30 minutes. Brush the soiled areas with a brush. Rinse and dry the jeans inside out to prevent fading. This will increase the durability of the clothes.
To make your towels fluffy and white
Minimize usage of detergent while washing towels. Add vinegar in the first rinse cycle. Have extra rinse while washing towels basically to remove all detergent in the clothes. Drying towels in the dryer will make them fluffy and soft than the ones dried on lines.