HOW TO REMOVE PESTICIDES FROM FRUITS AND VEGETABLES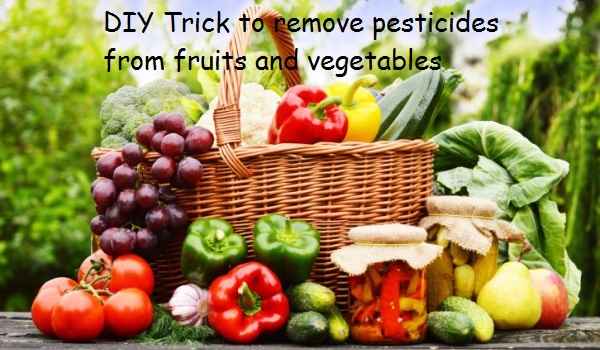 It is a proven fact that pesticides are present in all the fruits and vegetables we eat. They primarily used during cultivation of crops and in some cases may remain as residues. Wash all your fruits with 2% of salt water will remove most of the contact pesticide residues that normally appear on the surface of the fruits. Almost 75% to 80% of pesticide residues are removed by cold water washing. Most of the fruits that are likely to have pesticides are mango, apple, grapes, plums, guava, peers and peaches and vegetables like tomatoes, brinjal and okra .
The following are few simple natural and cheap tricks that can help you get rid of those nasty chemicals.
DIFFERENT METHODS TO CLEAN YOUR FRUITS :
Vinegar:Removing pesticides using vinegar is a natural, simple and cheap method. Natural vinegar wash not only removes pesticides but removes bacteria from the produce. Fill a large bowl with 4 parts water to 1 part plain white vinegar. Soak the fruits and vegetables you would like to clean in the mixture for about 20 minutes. Rinse it well with warm water.
Make Your Own Spray:This pesticide removing natural spray is super simple and easy to make with the ingredients that are readily available in your kitchen.   PROCESS: Mix 1 tablespoon lemon juice, 2 tablespoons baking soda and a cup of water until the baking soda is completely dissolved. Pour this into a clean spray bottle. Spritz the mixture onto your fruits or vegetables and let sit for 5-10 minutes. Rinse the mixture off and enjoy the pesticide free produce.
Soda Salt:Soda salt can be used as a universal cleaning solution to remove pesticide residues.You can wash the fruits and vegetables with 5% soda salt. Studies have proven that using soda salt solution is effective than washing with tap water. Soda salt can therefore be treated as a general cleaning solution to remove mixed pesticides in fruits and veggies.
Mix1 tablespoon lemon juice, 1 tablespoon white vinegar and a cup of warm water.Pour this into a new spray bottle. The spray produce is ready. Spray it on the fruits and let sit for 5-10 minutes and rinse thoroughly to wash away the residue.
Mix 1 tablespoon baking soda, 1 cup white vinegar, 20 drops grapefruit seed extract available at food stores and a cup of water. Mix properly to produce the natural spray.. Let sit for around 15 minutes and rinse thoroughly.
NOTE: The baking soda and white vinegar will foam when mixed together. Make sure you use a deep pitcher and pour slowly and steadily.