Learn what to do when your Job is making you Stressed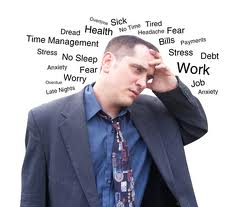 If your current job is making you feel stressed , you may put aside the feeling and continue with the current job. Stress is being accepted as part and parcel of one's life and therefore nothing major is done to combat it.
People do feel stressed even for minor reasons and ultimately spoil their health. You need to address stress, no matter what the sources may be. Stress is a serious issue and can lead to illness and psychological problems as well as preventing you from enjoying your day to day activities. What is the point in earning money when you are not able to enjoy it?
We work to support our families and to ensure financial stability. Therefore you need to plan a way while you can earn a living and improve your living standards without burning the bridges.
Top actions to implement and avoid stress at work
Speak With People
The first and foremost thing you need to do is to speak to people about the stress at workplace. You can inform your family and reliable friends  who are capable of understanding the situation and give advice to address the problem.
The next is to talk to your immediate supervisors and seek help. They may put in some measure and delegate work or probably give you an opportunity to work in another department wherein the work pressure is low. Make it a point to talk to your Management about the work issues and also communicate the solutions if any in your mind.
Formal approach – Put it in Writing
If you already completed the first step of talking to the Management and you are not seeing any improvement then try a formal approach. Write a letter to your Superiors explain the problem, do not point fingers at any individual. Mention that the workload is high and you are struggling to complete activities that are critical to the organization. Mention issues about the environment which is a barrier in smooth functioning.
This will help in two ways. The Management cannot ignore this request as they have received in writing and secondly the letter will be a record of your issues and will be convincing when you decide to leave as you had given a sincere try.
Take Some Time Off
At times a small break will be relaxing. You have been working as a machine day in and day out and on holidays for your family and children getting no space for yourself. Even if you can't afford to go on a lavish holiday somewhere sunny, you should at least take a few days off to enjoy a weekend break or something similar.
If you have used up all of your leave and you can't get the time off work, then you should go and speak to your doctor – you might find that they're able to get you the time off you need to recuperate. Doctors will correlate the severity of work related stress, and they may be able to recommend other coping strategies too.
Read: A cleaning routine that works in real life
Address Yourself: Re-organize
At times you may be experiencing lot of stress at work not with the workload. It could be that you are thinking of the workload or how to get the work completed rather from where to start and complete.
For example, if you are just highly meticulous and hard -working and want to do the best possible job, then you might find that this causes undue anxiety and actually ends up making you work less effectively. You can use simple techniques to assure yourself that 'you've done the best you can – that's all you can do' or that 'if I don't complete the work on time they'll just know to set me a little less next time'. Having more expectations and maintaining high standards could also result in great stress.
Meanwhile you can reorganize your work, prepare working schedules, delegate some of your tasks. You can save time in the office and this will create a confidence to handle your work.
Quit and Look Elsewhere
If all these measures fail and you are still finding yourself highly stressed then it is time to plan for a new job. At times the thought of a change and better tomorrow will give you hope for a brighter days. Not necessarily you quit the job. You can continue and look out for better career options.
When you join another organization, it is not necessary that the boat will sail smooth. Be optimistic and start a new leaf. Give your best and even in highest waves you will be able to sail right.
Closing out statement
Be able to balance work and home life. Share your problems and seek advice. You must have a network to bank upon in emergencies. Never ever take out your anger and frustration on family members. When you are angry, silently count 10, 9,…,1 and you will observe that your anger has gone away.
"Your work is going to fill a large part of your life, and the only way to be truly satisfied is to do what you believe is great work. And the only way to do great work is to love what you do. If you haven't found it yet, keep looking. Don't settle. As with all matters of the heart, you'll know when you find it."
- Steve Jobs