Choosing Paint Colors for your Teenager's Bedroom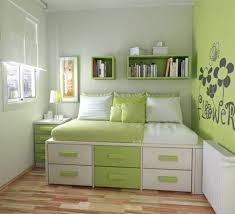 To decide paint colors for your teenager's bedroom can be a bit tricky and a decision making process considering their likes and dislikes. Unlike the other rooms in your home, your teen will usually have very strong feelings about what you do to his or her personal space. This is an area where you need to initiate with care, after taking all their inputs considering personal taste and passions. It is however recommended to involve your teenage son/ daughter  into this project and this will be an opportunity for the young ones to learn about color and how it affects people and moods in the long run.
Also read: All about Room Colors and how it affects your Mood
Listed below is a summary of the choices made by typical teenager:
Most teens want their room colors to be an extension of their own style, mood, passion or personality.
Bright colors do not scare teenagers
As a rule, teens are not mad about white.
Your son or daughter will usually prefer either a specific color scheme or bedroom colors that complement a theme or the display of a prized possession.
Some teens want their favorite color incorporated into their new bedroom design.
Teens are not impressed by high-end, expensive looks. They tend to prefer a more free-spirited approach.
Young people want their rooms to make a dramatic but comfortable statement, or in keeping with their emerging independence, they want their room to resemble a small studio apartment.
The easiest room change is to paint the walls one bright color, use white as a neutral for furniture and trim work, and add pops of a third bright color for accessories.
Teens change their minds and their tastes frequently. However, paint is relatively cheap and paint colors are easily redone.
Teenage Girl's Bedroom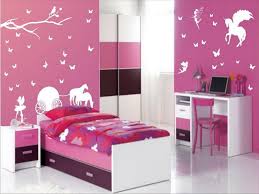 If your daughter is fashionable or girlie. The suitable color will be Pinks or lavenders with white furniture, colorful bedding and sparkly sequined accents will feel just right. If she belongs to the 'old soul' group who loves classics and antiques, consider shabby chic cotton-candy pinks, light greens and white as a neutral. You can also spread a floral rug as a focal point and drawing your wall colors from it. Some teens look and behave mature beyond their years. Consider deep reds and muted golds for a cosmopolitan, sophisticated look. The combination of lime green walls with black furniture and white accessories has a modern, contemporary feeling. Throw in some geometric patterns in a bright color to add even more energy to the room.
Fun-loving teens may want to add some huge polka dots to their interior room colors. Vibrant blues and pinks with modern bedding in a coordinating pattern will be exciting and interesting. Today's creative girls may be drawn to the energy of bright orange tempered with a pale shade of green or purple.
Teenage Boys Bedroom
Boys are practical and would prefer simple surroundings. No glamor and extra fittings. While they may not always be as neat as you would ideally prefer, they don't want a lot of clutter or gaudiness on their bedroom walls. If you take their opinion they would opt for stark white walls to colorful ones. If so, add some black furniture and accessories and pops of a single bright color such as red, royal blue or grass green.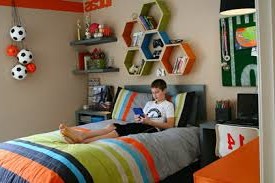 Your son may also prefer that his bedroom is a quiet retreat from the craziness of the rest of the world. He might enjoy the paint colors that include the earthier tones of greens, browns and beige's. If your son is crazy of colors, consider deep blue and electric orange with beige and white accents. The bigger advantage of using darker and bolder colors is that they add energy to a room. As boys are sports lovers, they may want their room to reflect their favorite sport or team.
Further reading: The Seven Important Home Management skills to Teach your Child
Pull out one unique color for the walls, add an appropriate sports border and some matching bedding, and the room will be beautifully transformed. The bed covers can also be picked to suit the sports theme.

As parents you need to sit with the teenager and discuss their convenience keeping in mind the duration of painting jobs. Discuss the child's preferences before you start buying paint. Involve your teen in the process of choosing interior colors and decorating accessories, and you may be pleasantly surprised at the satisfying results.
Best of luck!!
Please add a comment and, if you like the post, feel free to share it with your friends. You can also visit our facebook page and Google plus page for more insight on other articles.