How to Prevent Color Run in New Clothes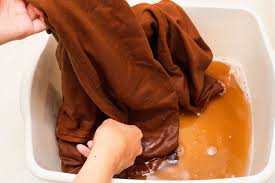 Buying new clothes is a favorite option on any given day. Festival time is nearing. Discounts and offers are being offered at every outlet and online stores also. After you pick your favorite outfits and accessories for you and your family and make sure you handle them clearly.
You will receive great compliments for your selection and after the festivities are over you start to clear your laundry and the surprise comes in. Usually the disappointment comes when you wash your new cloths in the washing machine or soak it with other clothes.
It is observed that colours of dark coloured clothes run more than light colours. At times you will notice that the embroidery designs also bleed colour resulting in clothes staining of different colours.
Why does Colour run in the wash for new clothes?
Various dyes-natural and man-made, dyeing techniques and fabrics are available these days. For the dye to stay on the fabric and not spread out to the other fabrics during wash, it becomes essential for a strong 'fixer' to retain the colour pigments to the new clothes.
To support fixing of colour pigments,a common method of dyeing fabric called 'salting out' is included in the process.This method involves adding salt to the water which supports the dye into the fabric. If this process is not done adequately then there is a risk of colour running from new clothes when comes into contact with soapy water.
You may also observe that new synthetic fabric, even if dark coloured will not run colour when washed. This is mainly because colour was added at the melt stage when the fibres are created.
How to prevent Colour run in the wash for new clothes?
First step to be followed on priority:
Add a handful of rock salt or common salt as per availability in half bucket of water. When dissolved immerse the new outfit. Ensure the cloth is totally immersed in salt water. Retain for 30 minutes and then wash this outfit in normal water.A popular solution for colour setting in new clothes.
Avoid using hot water while washing clothes, because hot water encourages colours to run by opening up the fibres and let go the dyes. Refer the tag attached to the outfit and follow washing practices. By using water at normal temperatures you save on energy too, which is a key requirement to prevent global warming.
Dry the dark clothes in the shade only to avoid fading of new clothes. Always dry them inside out.
In the long run too make sure you wash similar colours together to avoid surprises.
Do not leave wet clothes in a pile or on hold in the washing machine for long as it gives time for colour from one damp garment to spread onto the one next to it.
Outfits like jeans may not run colour but the indigo colour used in jeans is designed to fade out with every wash, therefore wash them inside out and dry them in the same manner.
Separate your clothing based on colours if you're washing more than one garment, changing the water in between washes. The last thing you want is to see  your brilliant white shirt to come out of the tub looking a vivid shade of blue!
White distilled vinegar is another popular alternative for colour setting in new clothes. Use one cup to set the colour the first time you wash the new clothes, 1/2 cup thereafter. Rinse in new normal water after 5 to 10 minutes of soaking. The clothes will not smell of vinegar.
Do not miss the Colourfastness Test for New clothes
If you are not sure about the colourfast of new garments, try the colourfast test on an inconspicuous part of the item before you wash it.
First dampen a small patch, place an absorbent material like a white cotton handkerchief or a piece of tissue paper on top, then iron it. If the handkerchief or tissue paper soaks up the colour, then your garment is not colourfast.
A word of thought:
Hey… let out the worry that all dark clothes will run. The truth is that colour run happens only when the garment is not dyed properly in the fabric process. Be consistent to wash your clothes with care- be it new or old ones.
Share your tips on how to remove colour run and any disasters you've encountered with us below in the comments. We will appreciate your efforts to be in touch and spread awareness among all .
Please add a comment and, if you like the post, feel free to share it with your friends. You can also visit our facebook page and Google plus page for more insight on other articles.
Also read:
Preserving Clothes from Pests Using Neem Leaves
How to remove candle wax and bubble gum stuck on clothes
How to Remove Grease Stains on Jeans
Tips for Winter wear Clothes and Storage