Great Tips to Reuse Old Toothbrushes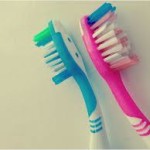 Dentists recommend that you replace your toothbrush every 3 to 4 months or earlier depending upon the bristles getting frayed. You need not dispose these toothbrushes, the old toothbrushes can be reused at your home in several ways. On priority you need to identify the old toothbrushes with a permanent marker and clean the brush prior to reuse.
How to clean the old toothbrush
Primary reason for cleaning the brush is to avoid any spread of germs. Since these brushes were used orally, it needs to be soaked in warm water and bleach solution for an hour's time.1:1 ratio of vinegar and water solution is also good to remove all germs.
Label the brush with a permanent marker so that it doesn't mix with the regular brushes.
Reuse your old toothbrush for cleaning:
You can quickly clean the grotty build up around taps, between tiles and the area between wall and floor of your bathroom.
Kitchen sinks is another critical area that can be addressed with an old toothbrush. The gaps in the metal can be thoroughly cleaned of sticky build up.
Clean hard to reach areas eg: AC grills, cooler rails, venetian blinds. Clean with dry brush and later wipe with a wet cloth.
Clean the computer keyboard and monitor. Also note that you should not use an old toothbrush for cleaning LCD and flat panel monitors as the bristles can damage the surface.
You can use old toothbrush for cleaning cutlery- Forks, around the tea cup handles, Tea filters, the vegetable grater which attracts oil in the gaps and becomes brown in color.
Ideal for cleaning the intricate design on delicate jewelry such as rings, earrings, daily wear chains which gathers oil and dust and looks dull. I soak the jewelry in soap water for 15 mins and then run the brush thru' the designs to get a clean product.
You can quickly remove soil deposits on the shoe sole. Handy during rainy season when the shoe and sandal sole will get clogged with the damp soil.
Very handy to dry clean the seams on shoes where the leather meets the sole.
Very useful to clean the bottle threads especially the pickle jars, Oil containers, baby bottles.
Very handy to apply color to hair, you can straighten your unruly eye brows. Clean your finger nails and remove hidden dirt especially after gardening.
If the end of the slim brush has a hole you can cut off the top side, smoothen it and use it as a perfect threader for the elastic tape of a knicker, cord for a curtain, pajamas, lehangas, sari petticoats,etc.
Clean dust from the corners of wood furniture, wall edges just above the marble tiles, design work on beds where dust settles on the protruded surfaces and which is difficult to clean with a wet cloth. Dust in crevices you cannot get to with conventional methods.
Clean Soap tray when you observe soap deposits in the base.
Toasters.  Microwaves.  Coffee Machines.  Use a toothbrush to clean off crumbs and stains that fall in those hard to reach spaces.
Clean your hair combs after soaking in soap solution for 15 to 20 mins. You will be amazed to see your hair brush looking new.
Clean and exfoliate your feet . Soak your feet in lukewarm water in which salt is added. After 20 mins use an old toothbrush to clean the toes, the feet lines and gently scrub dead skin cells to make your feet look neat and clean.
You can clean the bottom of buckets and mugs where grime has collected and can be a hygiene risk. Especially cleaning is required in crevices and around the raised letters of the name/logo of the manufacturer.
Clean artificial flowers and plants and make them look clean and attractive in your home.
Don't throw out your old toothbrushes. Instead, use them to clean a host of varied items and small or hard-to-reach areas and crevices. Later you can dispose the old toothbrushes after re-using them for a week to 10 days.
If you liked the article or know of other reuses of an old toothbrush, do mention in the comments.
Further reading: How to Remove Stains from Tupperware containers