A home is in chaos in the early mornings when each member in the family is searching for one item or the other.  Lots of time is lost each morning in search of items eg: school going kid will search for a belt / tie. Papa is turning everything upside down in search of vehicle keys or / and an utility bill or insurance papers which is due for payment, today being the last date to avoid late fees. Mom is upset for the missing scissors or shouting at the children for messing articles kept in the cupboard. This is a common scene in many homes where each member in the house has a deadline to leave home for work or study.
We also had gone through these phases for quite some time. When we search for a particular article most chances are that we would find the item that was missing for a long time. Nail cutter was a popular item missing very often . In spite of having 2 spare nail cutters at home ( each purchased in emergency when the previous one was missing) we used to be on our toes if the need came up.
Similar concern is with the scissors in the kitchen. This scissor is placed on a hook close to the working platform, very ideal for opening milk packets and grocery bags. Whenever the kids are unable to find the regular scissors placed for paperwork , they rush to the kitchen and conveniently pick the one on the hook.
Unaware the next morning when the time comes to boil the milk. Lo…there is no scissor in the kitchen. I go mad as I'm running out of time, I'll miss the office vehicle. I manage with a knife and take a pledge to give a piece of my mind to the kids in the evening when I'm back home.
When I'm back home in the evening, there is a call from my hubby enquiring about  a particular receipt or a critical document that is missing from the set he carried to work. My hubby carries paper work home as he is into private business. He does not have a working table at home. He leaves critical, essential documents in each room as per convenience. It was a major pain in the neck when he enquired. The evening would go away in this search. (morning episode forgotten)
This was the time my aunt planned to visit our city to complete formalities for traveling abroad. She was with us for a week's time. She was a self made person, independent and has great passion for cooking and a wonderful multi-tasker. She quietly observed all the chaos and running about in our house . She did not intervene when we were looking around for things. I fell sick in the middle of her stay and was in bed, further chaos in the house on that day. She helped the family in cooking etc. A day prior to leaving our home she prepared hot tea for both of us, insisted that I sit down and have a talk, as the kids and my hubby had gone out for shopping.
She then slowly informed me about the ways I can better plan time for the family. How I can keep myself and the home organized etc. She conveyed to me that a mother can be a good role model for the kids. Therefore the task of organizing the home rests upon the mother , the kids and hubby will be forced to follow through . She quoted that , " Rome was not built in a day". You need to be patient and never give up was the strong message. On the day she was leaving she assured that she will be in touch for any help or support I required. With tears in my eyes I bid her farewell and thanked her for all the support and timely advice.
That was a turning point in our lives and my home. I slowly started to put in my efforts in bringing changes to the house. Gradually I found a place for each item in the house. I segregated the not so useful and essential items and started to label each rack. I bought small racking systems, files for placement of documents. Disposed off the unnecessary items, books, clothes, utensils to people as per their requirements. Things started looking organized. The children started to place their belongings in the allocated places. They remove lunch box and water bottles from their bags and place them for wash. My hubby was initially reluctant but later gave in. He started to segregate incoming mails, utility bills and file them in corresponding files once a week. We are able to locate the items with ease…all thanks to my aunt who initiated this change in our home.
Following are few tips for busy working moms to keep your home organized. Summarized the ones that quickly came to my mind.
Laundry:
While folding laundry clothes – maintain separate slots / covers for under garments, socks, handkerchiefs.
Provide a hook for placing belts. Place ties in cupboard to avoid accumulation of dust.
While stacking clothes in cupboard, place matching blouse in between the sari.
In case of salwar kameez, fold the entire set including dupatta / shawl along with kurta and pyjama.
Place pillow covers inside bedsheet only. Similarly with divan sheets and covers. You can apply this technique for sofa covers too as it will save time when you want to replace the next time. This gives an organized look too in the cupboard.
Keep seasonal garments separately. Keep scarves in one slot of the storage rack, gloves and muffins in another, mufflers and head caps together. This will save time when you require it for the first time in winter.
Wash white clothes separately. This will avoid staining with different colors and a brighter wash.
While drying clothes in the sun, reverse all garments in-out to avoid fading. Follow this for the under garments too. This will retain the colors and ensure hygiene.
Cleaning:
You can reuse old T-shirts / banians for cleaning kitchen counters and platform as it will absorb all dampness and leave table tops dry.
Never allow water to go under dining table covers as it will leave a bad stink which needs to be cleaned with detergent and lime
Keep your shoe rack covered to prevent dust collection of the remaining shoes and slippers. Do not discard the shoe box. Retain them for the seldom used shoe wear. This will save time in dusting and an aged appearance.
Stationary
Place essential stationary together in the cupboard for eg: scissors, tape, paper clips, all pins, jump clips, staler, paper glue, pencil, paper punch . Use the tray system rack with appropriate cut outs such that any item that is missing can be identified and it will force the users to keep things in allocated places.
Tools
Keep all tools together such that upon requirement for an electrician activity or plumber activity you have the right tools at your call. This saves time. We need not go asking our neighbor for help.
Kitchen tips
Label grocery containers with expiry date , date of filling. This is highly beneficial for ingredients that are seldom used and will enable you to decide usage of the ingredient.
To save time use a dispenser i.e tadka box for tempering. This saves time and avoid opening several containers.
Place a paper and pen on the cupboard to keep track of things getting exhausted in the kitchen. An easy grocery procurement list. No fear of forgetting items.
Let me tell you the solution for the missing nail cutter:
Now we have placed a hook on the inner side of the cupboard with a message overhead, "Replace after use. Beware losing 15 minutes of your time". I've placed color codes to distinguish nail cutter provided in each bedroom. Now I'll be able to identify the person who messes things around.
Make it a practice to empty the contents in each cupboard and then rearrange them at least once in 2 months. You will find things that were missing in between the papers or clothes.
Include your family into organizing your home. You can delegate small tasks to kids and make them feel responsible for the activities at home. My family members have transformed with time, they are willing to lend help when required.
I'll further update on tips in the forthcoming article.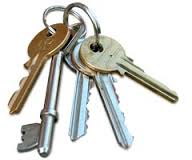 Keys are precious articles. Be it a home, a car, cupboards, drawers and cabinets. If the key(s) are missing there will be madness in the house. Tempers are high and the blame is put on one another when the key bunch is missing.
It is a common issue for most people to place the keys and actually forget where they had deposited the last time. Things will be lifted from position and the entire house will become messy. Some people are always restless and drop things in a jiffy when they enter home. Only when the key is required again, they desperately keep looking out for it. The time taken for searching keys could be in days for a year if totaled.
There is a lot of stress when the key is missing. You are probably getting late to work or dropping your child at school. There is an outburst of anger and frustrated discussions. You can skip all the wasted time and keep the home organized.

The new arrangement will bring an organized approach, a habit for the other family members. They will try to collectively work to keep items in the designated places. It will take time for things to set in place. Be patient and see the gradual change in outlook.
Tips to ensure you find your keys.
Identify a location preferably near the door to hold your key ring at home. You get pretty models in the market.
You can place a basket or hanging bowl with separators for putting in the keys near the entry of your home as it will be convenient and easy to find the next time you require it.
Arrange your key bunch. Separate the keys commonly and regularly used from the lesser used ones. This will make the key bunch light too.
Keep a separate set for inner cupboards and a set for external keys eg: main gate, mail box, garage door, etc.
Color code the key chain for individual rooms such that tracing is easy when you look out for it in the key ring.
Keep the keys that require more safety in the inner cupboards in a key ring such that it is not easily accessible. The storage place info can be shared only to the inmates.
When you get several keys while cleaning the house, keep them in a box and in your leisure time check if it suits any of the locks available at home. If not dispose them off. Keeping these keys at home only add to the confusion.
Keep an extra car key in your purse / wallet as a backup in case of accidental lockouts.
Important keys eg: safe deposit box key can be stored in the cupboard wall. Conceal the key with a tape in the centre such that it will be safe and handy too in need.
If there are several drawers in a cupboard you can identify them as Top right, Top middle, Top Bottom as convenience be for the users. Label the drawer and the key bunch with small tags.
If the key has a number eg: 142, 118. Then you can place a small sticker with the corresponding number on the drawer such that identification is easy.
Keep your family members informed of the changes you make such that they are prepared when you are not at home.
You can give an extra key to your trusted neighbor such that in an emergency situation you can get access to your home. It is sensible when you are out and expecting the kids to come in early home. You can call your neighbor and inform the situation such that keys can be handed over to the family member coming in first home.
There are times when people wish that the keys had a remote such that it can be traced when misplaced or lost. We can catch up with technology while making arrangements  and organizing homes to better lives in the current situation.