TIPS TO CLEAN AND MAINTAIN YOUR BATHROOM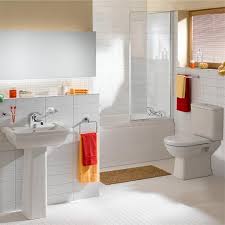 Bathroom is the area that is prone to bacteria, germs, mildew, dirt and fungi. To keep your bathroom clean and maintain it well, the bathroom has to be cleaned regularly to remove all the dirt built up and ensure it is safe and hygienic for the health of your family.
With all the money spent to make a bathroom look spectacular , installation of latest fittings ,  bathtub, shower room, inbuilt change areas it has transformed to become the heart of the house. Special attention should be given to all the assembled accessories to prevent deterioration. Any negligence in the cleaning and maintenance of bathroom will lead to pests infestation and frequent sickness for the members of the family.

Constant monitoring is required to ensure your bathroom is spic and span. Leaking pipelines and taps will lead to stains and the room will become humid. You need not face embarrassment when there is an unplanned guest at home.
Do not wait for the scheduled day or a monthly schedule to clean the bathroom. Light cleaning on a daily basis will ensure your bathroom will be appealing and hygienic too.
Here are few tips to clean and maintain your bathroom to avoid dirt built up.
Follow precautionary measures prior to cleaning. Wear gloves to avoid burning of hands while using disinfectants.  To avoid the smells and feeling suffocated with the smell of disinfectants wear nose masks. You can tie a cotton handkerchief over the nose too.
Empty all racks and clean all cupboards. Replace lining papers. Fill in stock after the surfaces are dry.
Place towels and bathroom screens for wash.
Apply disinfectant on the tiles and scrub them with a brush. Use small brushes for hard to reach areas. Ensure the corner areas where 2 walls meet are addressed thoroughly. The nylon brush should be rubbed thoroughly to remove all oil and dirt.
Similarly spray disinfectant on the bath tub and retain for 10 minutes.
Clean the exteriors of the water heater . Remove cob webs on the wall, if any.
Wash away all tile surfaces. Now you can brush the bath tub and clean all grime. The job will demand bending and reaching the areas in and out. Be extremely careful.
Apply the disinfectant onto toilet bowls. Let it remain for 10 minutes. Use a long brush for toilet and a curved brush to reach the inner side of the toilet.
Remove all hair from the drains.
Manually clean the shower head using an old toothbrush to ensure there are no clogged holes.
Wipe the mirror with detergent and remove all soap stains. Finally clean dry with old newspapers.
When all surfaces are dry in the bathroom ,replace towels , bathroom screens, tissue rolls, bathroom rugs, door mats, etc.
Spray room freshener  and you will be amazed to see your bathroom sparkling clean.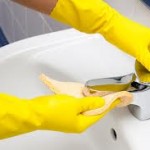 Instruct your kids to flush toilets after use. Children often forget to flush. They are always in a hurry to complete the task and rush out. Inform them not to mess the wash sinks with excess tooth paste.
Basic necessities is to allow sunshine come into bathroom such that the room is dry. Usage of exhaust fan such that foul smells are pulled out. The room freshener will be effective in spreading pleasant smell in the bathroom.
You can place a small bowl with plants at the window sill to bring in color in the room.
You can use vinegar or baking soda for cleaning the bathroom. They are natural products to keep away bacteria, remove foul smells and also ensure your bathroom is clean and maintained well.
Irrespective of who does the cleaning in the bathroom i.e self or outsourced you need to procure toilet cleaning tools for having a clean bathroom.